PMB, Adeosun, Emefiele Meet Over Economy, Budget Performance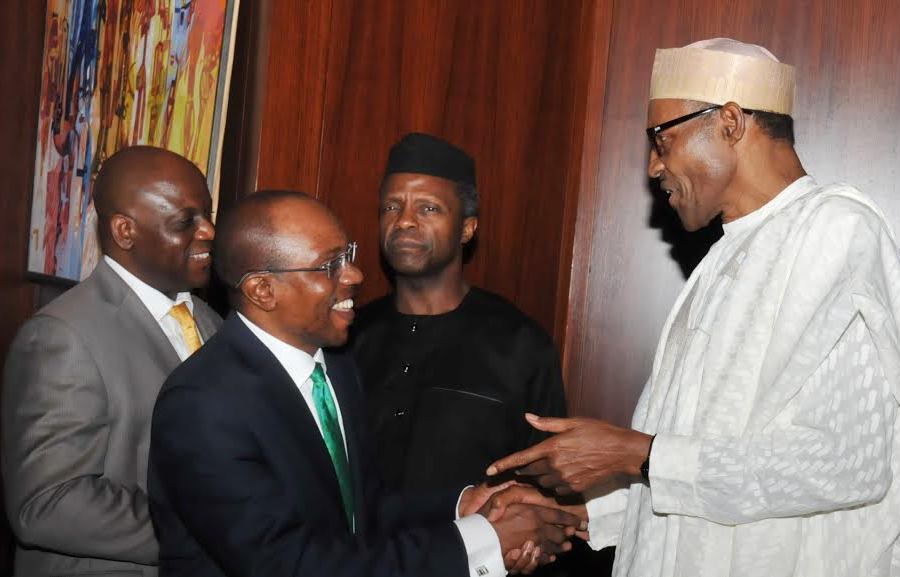 President Muhammadu Buhari yesterday met with the Minister of Finance, Mrs Kemi Adeosun, her Budget and National Planning counterpart, Senator Udoma Udo Udoma and governor of the Central Bank of Nigeria (CBN), Mr. Godwin Emefiele, to deliberate on the state of the nation's economy.
EYES OF LAGOS learnt that, At the meeting which lasted almost two hours, the ministers and CBN governor briefed the president on the improving state of the economy, implementation of the 2017 budget, preparation for the 2018 budget, revenue strategies, combined cost reduction and debt management.
A statement by the special adviser to the president on media and publicity, Femi Adesina, noted that President Buhari declared that he was pleased with the progress being made on different fronts of the economy.
The presidential spokesman said, "Also discussed were monetary policy strategies and their economic impact, among others.
"President Buhari, while reminding the Ministers and CBN Governor that reviving the economy was one of the major planks on which the campaign of his party, the All Progressives Congress (APC), was based, expressed gladness that things were looking up after two years of yeoman's job"
"Urging them to keep at it, the president noted that the main aim of government was to bring succour to Nigerians across all walks of life".
President Buhari was away in the United Kingdom for medical treatment when then Vice President Yemi Osinbajo who was acting president signed the 2017 appropriation bill into law on June 12, 2017. The total budget figure signed is put at N 7.44 trillion.
The National Assembly had passed the 2017 Appropriations Bill on May 10 after increasing the N7.28 trillion earlier proposed by Buhari in December last year to N7.44 trillion.
When contacted yesterday to provide details of how much has been released from the 2017 budget so far, director in the ministry of finance, Salisu Na'Inna Dambatta said he doesn't have such record.
"Come to our office tomorrow so that we can both work on it", he simply said.